Monday, May 3, 1999 Published at 20:57 GMT 21:57 UK



Entertainment

Sir Paul is Your Millennium's greatest composer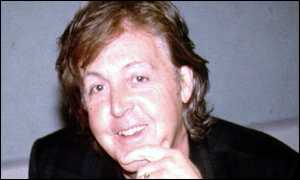 Sir Paul beat the likes of Mozart and Beethoven to take the top slot



Sir Paul McCartney, composer, bass player and lead vocalist in the most successful pop group of all time, The Beatles, has been voted the greatest composer of the millennium by BBC News Online readers.

Sir Paul scooped the top slot by a large margin, with Wolfgang Amadeus Mozart in second place, closely followed by Johann Sebastian Bach in third.

The vote was the fourth in our monthly Your Millennium series. In May, you can vote for the greatest world leader of the last thousand years.

To inspire you, leading journalists John Simpson of the BBC, and Jon Snow, the award-winning presenter of Channel Four News, have contributed their personal Top-10 lists.

Taking part in last month's Your Millennium contest for greatest composer were two experts from very different musical backgrounds: the operatic virtuoso, Cecilia Bartoli, and the futuristic music maker, Thomas Dolby.

Ms Bartoli named Wolfgang Amadeus Mozart as her top choice and Mr Dolby chose Johann Sebastian Bach to be number one on his list.

But BBC News Online users had their own ideas, with thousands of votes cast in favour of a contemporary musician as the millennium's greatest composer.

Master songwriter

Sir Paul was responsible for many of the Beatles' greatest hits and some of the world's most famous songs, including Penny Lane, Hey Jude and The Long and Winding Road. His composition, Yesterday, remains the world's most popular song, recorded by more than 2,200 different artists.




Sir Paul continued as a prolific songwriter after The Beatles broke up in 1970, releasing 23 albums on his own and with his band, The Wings, which included his late wife, Linda.

Many BBC News Online readers said they chose Sir Paul's music for the simplicity and purity of the melodies.

As Teresa Beaman said: "There is no other composer who has written such music, words, melodies, whether it be rockers, ballads, classical, which have touched the heart and spirit as Paul McCartney has done".

Fred van den Hoek added: "Paul McCartney's melodies are so natural sounding, it's as if they always existed."

Jerry Neapolitan remarked that he had chosen the former Beatle for "the diversity of his talent and warmth and joy of his music".

Others commented on Sir Paul's versatility and the innovative qualities of his music even after his time as a member of the Beatles.

"McCartney has shown himself remarkably adept at crossing musical boundaries, and it was through him and the Beatles that rock and roll reached its artistic peak, and through which rock was opened up to so many influences," Michael Frontani said.

Everyone's a winner

And true to rock history, there could be no mention of Sir Paul without his fellow band member, John Lennon, who was voted number four. The two shared a unique, if not infamous songwriting partnership and were both responsible for the Beatles' enormous stream of hits.

"Lennon captured the spirit and thinking of the world. He wrote of love and peace and gave hope to millions through his inspirational music. May he rest in peace," said Helen Crisp.

Apart from Mozart and Bach, Ludwig van Beethoven and Richard Wagner were the other classical composers to be named in the final Top 10 list.

The contemporary classics such as Frank Zappa, Bob Dylan and Van Morrison made their way into the list, while pop maestro Prince, now The Artist Formerly Known As Prince, came in at number seven.

"I think Prince is the best composer ever, because his music is so innovative and he can combine many music styles together," said Lari Telaranta.