Remember these?
If you do you're showing your age! Vinyl 45-rpm records, played on a stylus-based "record player," were cool in their day. The same fate awaited a plethora of gadgets that were also one-time symbols of sophistication.
In some cases, the tiniest-of-tiny garnered status. In others, the largest-of-large was cool:

© Zits Partnership. Reprinted with Special Permission of King Features Syndicate.

*****


© 2010 Baby Blues Partnership. Reprinted with Special Permission of King Features Syndicate, Inc. *****
Taking a cue from Alan Kay's banner quote above, many did try to predict the future with invention, in a manner of speaking. However, we already know the fate of vinyl LPs, cassette & 8-track tapes, and laserdiscs. Eventually CDs, DVDs, VCRs, camcorders, digital video recorders, telephones, cell phones, desktop and laptop PCs, PDAs, calculators, palm-sized and hand-held computers, game machines, digital tablets, digital cameras, digital music players, portable document/book readers, Internet phones, iThingies, room-sized TVs, wristwatch-sized TVs, pen-sized phones/computers and the many variations of body-piercing microchips all made the scrap heap.
With Phrenicea as your facilitator for communication, recreation and more — there's no need for gadgets!


Non Sequitur © Wiley Miller. Reprinted with permission of uclick. All rights reserved.

Will Phrenicea usher in "The Good New Days"?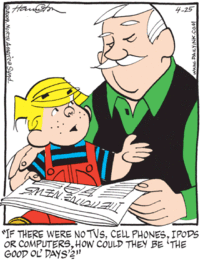 Dennis the Menace. Reprinted with Special Permission of North American Syndicate.


The Future — It's All In Your Head! ®


Use of this website constitutes acceptance of the Phrenicea® Terms and Conditions.

This page belongs to
www.phrenicea.com
Entire site ©2000-2011 John Herman. All rights reserved.