Portrait of a 21st-century addict? Believe it!
Right now she's "bidding" on several memories from a previous generation — decades-old recollections of people, places, and events that are stored forever on Phrenicea — literally from the minds of people that lived in the past. With Phrenicea one can be nostalgic for an era they didn't live through. (Her favorite pastime is writing first person memoirs of other people!)

Nostalgia is somewhat relative. Today we may be tempted to look fondly even at the Cold War days, when our adversary was "only" the mighty Soviet Union that could obliterate us ten times over. Similarly, today's crazed pace of life and

The nostalgic will reconstitute moments by bidding on bits of pleasant episodic memories stored within Phrenicea.

the fear and anxiety associated with the threat of terrorism might be looked upon through rose-colored glasses — when compared to the boring existence that will be sustained late-century by Phrenicea.

With Phrenicea came the feasibility of widespread, full-time cubicle dwelling and a consequent lack of opportunity to live a full and rich life. This fostered a wistful, sentimental yearning to re-live vicariously experiences from the past. With Phrenicea too came the "braincomb," constructed of many thousands of human brains replete with all the accumulated knowledge obtained through billions of personal experiences.

By the 2060s, the nostalgic will not satisfy their craving for bygone times reminiscing or using PCs to bid on old odds and ends on Ebay®. Their zeal to swap the present with the past and escape their boring existence will be via reconstituting moments lived by others. They'll bid on bits of pleasant episodic memories stored within Phrenicea's braincomb.

ZIGGY © 2004 ZIGGY AND FRIENDS, INC.
Reprinted with permission of UNIVERSAL PRESS SYNDICATE. All rights reserved.

With computers now relegated to the gadget scrap heap, bidders instead mentally engage Phrenicea to place and process their bids. Payment is accomplished through the depletion of their DNA-based "account" of DiNAs, stored on their man-made 24th chromosome.

The auction winners acquire perpetual rights to "download" and revisit these memories at will — often to the exclusion of "real" living. This became a serious problem analogous to substance abuse and addiction from the previous century.

If Dennis was allowed to grow up (he's been a child since 1951!) he'd realize just how prophetic was his innocent observation: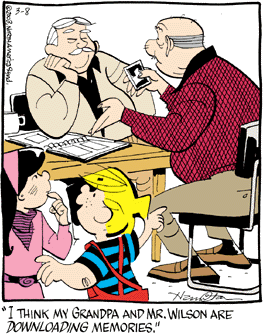 Dennis the Menace. Reprinted with Special Permission of North American Syndicate.

These are the good old days!



Visit Your Future®


Use of this website constitutes acceptance of the Phrenicea® Terms and Conditions.

See an Illustrated interpretation



by Phrenicea Art Contest winner
Annu Sharma
This page belongs to
www.phrenicea.com
Entire site ©2000-2011 John Herman. All rights reserved.